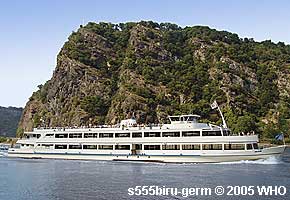 Rhine River day boat cruise: Lorelei Rock between Oberwesel and St. Goar on the Rhine River.
In the internet, for example on www.germany-travel.net, you'll find different links that will help you find what you're looking for.
Among others, you'll find a map of Germany that will help you choose the region you'd like to make a trip to.
A few German regions are the spa resort Baden-Baden at the border of the Black Forest area with its unique cuckoo clock manufacturing, the Mosel / Moselle River Valley with cities such as Trier with the Porta Nigra (Latin for black gate), which is a former Roman city gate and the city's landmark, the Rhein River Valley, of which the upper Middle Rhine River Valley between the cities Coblence / Koblenz and Rudesheim in the Rheingau with the Lorelei rock between Castle Gutenfels, Castle Schonburg and Castle Liebenstein near St. Goar, Boppard, Oberwesel and Bacharach was declared a World Heritage Site in 2002, or Bavaria with its world famous "October Fest" in Munich.
All of these regions are tourism regions and offer lots of possibilities to buy souvenirs for yourself and / or your loved ones at home.
Further well-known cities and regions that are worth a visit are Hamburg, Hannover, Dresden, Wiesbaden, Nuremberg, Heidelberg, Stuttgart or Lake Constance which borders Germany, Austria and Switzerland. Less known towns that are also worth a visit in west Germany are Paderborn, Kassel in Hessen, Eisenach, the cities Hanau, Offenbach, Mainz in the Rhine-Main-Rivers area, Bingen in Rheinhesse and Mannheim. A lot of these cities and towns are full of interesting history.
If you're interested in booking a complete all inclusive holiday, you could also go to travel agents in travel agencies and ask for a vacation package for Germany. They may perhaps have packages that include everything you'd like to experience in Germany: a stay in a castle hotel with a guide through the secret tunnels of the castle, a day trip to a city nearby for a shopping tour and a boat cruise on a river.
As a tourist, you'll find short-term homes in a hotel, bed and breakfast inn or an apartment in these and all other regions of the country. Interesting to know is that some hotels in some regions are actually inside a castle and called castle hotel. On the internet site www.germany-map.com, you can find castle road maps that help you find castle hotels with restaurants throughout Germany. So if you wanted to, you could do some "castle hopping"! A castle that's always very well visited is the 915-colm castle hotel Mid Franconia near Rothenburg o. d. Tauber in Bavaria.
There is also a nice castle hotel near Koln Cologne Bonn airport on the Rhine River. Not all castles are castle hotels, but still worth a visit. For example, the Neuschwanstein castle near Fussen in the Bavarian Alps, is one of them. This castle in fact inspired Walt Disney's Cinderella castle. At the foot of the Neuschwanstein castle, there are several small hotels or apartments. And the distance from one of these hotels to the castle Neuschwanstein is not that far. You can take a hike up to it and ride in a horse carriage back down or vice versa. One thing you definitely do not want to forget to take with you during your vacation in Germany is your camera because you will surely make lots of photos and pictures to capture the memories of this unforgettable vacation.
There are plenty of ways of travelling to Germany. The quickest and easiest is, of course, by plane. Well-known airports are the Frankfurt / Main Airport, the Koln / Cologne (Koln) / Bonn Airport, Dusseldorf Airport or the airports in and around the capital city Berlin. Once in Germany, you don't necessarily have to rent a car from a car rental agency to travel over the highway from town to town or city to city. You can almost always take a train to your destination. Rail tours of trains and a railroad schedule can be found on the internet or at the tourist information directly in the town you're staying in. And if you can't reach your destination town or city by train, you can still take a bus or a taxi for a reasonable price.

.
Rhine River Germany Wine Festivals 2019 2020 Boat Trip Bacharach Festival Firework Pictures Cruise August October Lights Lahnstein Koblenz September Trips Rudesheim Tickets Summer Oberwesel Information Lorelei Rhens Boppard Kamp-Bornhofen Rhein
www.rhine-river-lights.com

Firework displays on Rhine and Moselle Rivers in Germany - Rhine Aflame, Rhine in Flames, Flaming Rhine river gorge pictures | Boat parade round cruise tickets along the fireworks | show photos | german wine festival schedule on the middle Rhein River between Mainz, Wiesbaden, Bingen, Rudesheim, Oberwesel, St. Goarshausen, St. Goar, Rhens, Braubach, Coblence, Koblenz, Bonn, Koln, Cologne
www.firework.rhine-river.com
Mannheim Heidelberg Neckar River Valley Rothenburg o. d. Taube r Nurnberg Nuremberg Furth Schweinfurt Bayreuth Germany
Southern rent Vacations Rentals car House Rhineland Cities Gottingen Booking Brochures Trips Housing Reservations National Companies Rates Lodging Climate Images Directions School pics Coach Rheinland Culture plan Locations Deutschland Prices Shopping Years Festivals Traveling Lakes Distances Northern Guides Buses Detailed Holidays Fares Discount sale gift Listing Restaurant Weekend Insurance Towns Direction Palatinate Parks Accomodations book ship flat Schedules Visitor Airports Travelagency Packaged Accommodations cost Bookings Weddings Singles Renting Travelagent tips Germay room Palatine Reservation Starting Mailing Water Euro Office pic apts Resorts Advisory Half-day Brochure Lodge Cultur Tiket Price Mapping Business

Rhine River Bus Tours between Cologne, Frankfurt and Heidelberg in Germany, along the german castles